Isolation Mounts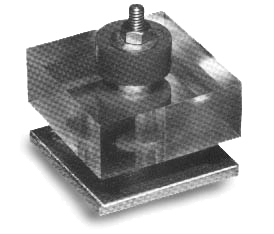 Newton isolation mounts incorporate E.A.R. C-1002 material, a highly efficient energy absorbing material.
The "C-1002" material's high damping ratio enables the mount to reduce mechanically induced vibrations at an extremely rapid rate as well as helping to avoid additive effects with incoming impacts.
These isolation mounts feature economy, simple design, ease of installation, easy replacement, elimination of necessity for periodic adjustment, minimum weight and size.
They can be painted; are water, oil, weather and flame resistant; have anti-skid properties; and are designed for temperatures to 150 degrees F.Used in thousands of applications over the past 25 years.